LinkedIn estimates that nearly 70% of candidates consider themselves passive job seekers. That means that if your organization is only looking for active candidates, or the ones actively searching for a new job, you're only tapping into 30% of the workforce. Amid such a tight labor market, recruiters must rethink their strategies for finding and engaging top talent to ensure they're looking at the whole talent pool, not just one section. Keep reading to see how you can tweak your strategy to appeal to both active and passive candidates.
What is Targeted Recruitment?
Targeted recruitment is identifying and attracting candidates with the specific skills and experience your organization needs. This approach contrasts traditional recruitment methods, which typically involve posting a job listing and waiting for candidates to apply.
There are several advantages to using a targeted recruitment strategy. First, it allows you to cast a wider net and reach a larger pool of potential candidates. Second, it allows you to target specific skill sets and experiences that your organization requires. And third, it helps you to identify hidden talent that may not be actively looking for a new job but would be open to the right opportunity.
@Visage_Jobs highlights new strategies recruiters can leverage for engaging #Active and #Passive candidates in the new year:
Click To Tweet
How to Implement a Targeted Recruitment Strategy
There are several steps you can take to implement a targeted recruitment strategy at your organization. First, start by taking a close look at your current workforce and identifying any existing skills gaps. Next, develop job descriptions that accurately reflect the skills and experience your organization needs. Then, use various recruiting channels—such as social media, job boards, and employee referral programs—to reach out to potential candidates. Finally, conduct a thorough screening and interviewing process to ensure you make the best possible hire for your open position.
Create a Targeted Recruitment Strategy
Define Your Ideal Candidate
The first step in creating a targeted recruitment strategy is to define your ideal candidate. What skills and experience does this person need to have? What kind of personality would be a good fit for your company culture? Once you have a clear idea of who you're looking for, you can start to build a profile of your ideal candidate.
Identify Your Target Sources
Now that you know who you're looking for, it's time to identify your target sources. Where do people with the skills and experience you seek tend to congregate? LinkedIn, professional associations, and job fairs are all great places to start your search.
Build Your Brand
Your next step is to build your brand. Candidates should be able to easily find information about your company and what it's like to work there. Make sure your website is up-to-date and that all of your social media channels are active and engaging. You want candidates to see your company as a place where they can thrive and grow their careers.
Reach Out and Engage
Once you've built your brand and identified your target sources, it's time to reach out and engage with potential candidates. Attend relevant conferences and networking events, post interesting articles on social media, or hold informational webinars. The goal is to get potential candidates interested in your company so they'll want to learn more about open positions.
Make the Application Process Easy
The final step in creating a targeted recruitment strategy is to make the application process easy. Candidates should be able to easily find open positions on your website and apply with just a few clicks. If the application process is too complicated, you'll lose candidates at the very beginning.
The Difference Between Active and Passive Search Strategies
In a competitive job market, it's more important than ever to think outside the box regarding recruiting. That's why hiring managers should be certain they're recruiting both passive and active candidates when finding top talent for their organization.
The Active Candidate Mindset
Understanding what motivates active candidates is more vital than ever in today's ever-changing workforce. Recruiters view active candidates as those actively searching for jobs and interested in recruitment. Active candidates are actively searching for a job and receptive to recruitment efforts from employers like yourself—but that doesn't mean they're easy to find or recruit! By using specific keywords when searching online, reaching out to those who have recently changed jobs or positions, monitoring industry trends, and utilizing employee referrals, you can better target your recruiting efforts.
A candidate's mindset can help shape your recruiting strategy for active candidates. These active (should I say proactive?) candidates might be looking for a  more challenging position or to take the next step in their career. They may seek to develop new skills or change roles/fields entirely. Some active candidates may want to relocate for personal or professional reasons. They may be finishing a gig, or, most likely, just be unhappy in their current role.
The most obvious benefit of this type of recruitment is that the typical active candidate is more motivated to go through your process and faster to reply to your communication.
Talented professionals may be interested in a new job to pick up new skills and varied experiences, take on more responsibility, or search for a more positive company culture.
How To Stand Out with Active Candidates
1. Use specific keywords when searching for candidates online. This will help you narrow down your results to only those actively searching for new opportunities.
2. Reach out to individuals who have recently changed jobs or positions. These people are likely already in the mindset of exploring new opportunities, so they'll be more receptive to your recruitment efforts.
3. Use social media to your advantage. Social media is a great way to reach out to potential candidates and gauge their interest in new opportunities. You can also use social media to get a better understanding of their work experience and skill set.
4. Keep an eye on industry trends. Monitoring industry trends will help you identify when certain employees might be considering a change so you can reach out before they become active candidates. For example, if there's a trend of employees leaving one company for another, you may want to reach out to those employees and see if they're interested in hearing about other opportunities.
5. Use employee referrals. Employee referrals are one of the most effective ways to find quality candidates because you get recommendations from people who already know and trust your company. Ask your employees if they know anyone who might be interested in the open position and reach out accordingly.
The Advantages of Recruiting Passive Candidates
Many employers focus on recruiting active candidates, those who are already employed and are actively seeking new opportunities. However, there are many benefits to recruiting passive candidates as well.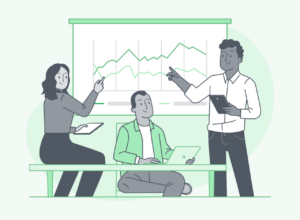 Passive candidates are not actively seeking new employment but could be persuaded to leave their current position for the right opportunity. These candidates are usually gainfully employed and aren't actively searching job boards or attending career fairs. Because they aren't actively looking for a new position, they can be a little bit harder to find.
YK? Did you know that 1 in 72 passive candidates are hired, as opposed to 
1 in 152 active applicants?
You can target specific skills and experience
When you're recruiting passive candidates, you can include more than just those who are actively seeking new employment. This means that you can specifically target people who have the skills and experience that you're looking for. This allows you to be much more selective in your hiring process, saving time and money in the long run.
They tend to be more qualified
Since passive candidates are not actively seeking new employment, they are usually content in their current role. This means they are likely to be satisfied with their current position and are less apt to jump ship at the first opportunity. Passive candidates tend to be viewed as more qualified and have more experience than active candidates.

You have a larger pool of potential candidates
When you recruit passively, you open up your pool of potential candidates to include those who aren't job seeking. This gives you a much larger pipeline of talented individuals to choose from, which increases your chances of finding the perfect fit for your organization.
You can avoid bidding wars
In a tight job market, it's common for employers to find themselves in bidding wars for top talent. This can drive up salaries and cause tension between employees. When you recruit passive candidates, you can avoid these situations because the candidate is not actively seeking new employment (however, your offer may be used to drive up their compensation package if they are happy in their current role.) This can save your organization money in the long run and help to keep morale high among your existing employees.
How to Attract Passive Candidates
Use social media platforms to your advantage
Social media platforms can be beneficial for finding top performers. Many social networks allow you to search for potential candidates based on specific criteria, such as job title, company size, or location. Other platforms allow you to see a candidate's portfolio or body of work. Still others gather candidates interested in a specific work-related topic in one area, allowing recruiters and sourcers to weigh in on the conversation and build relationships. 78% of recruiters expect the use of social media for finding candidates will increase, so not being active on social media presence could harm your ability to attract passive candidates.
The way you approach recruiting #Active candidates differs from #Passive candidates. Brush up on the latest strategies and tips in @Visage_Jobs latest article:
Click To Tweet
Utilize employee referral programs
Employee referral programs are another great way to find top performers. These programs allow your existing employees to refer candidates they know who they think would be a good fit for the open position. Employee referral programs often result in a higher quality of applicants because your employees are more likely to refer people they know are qualified and would be a good fit for the company culture.
From 5 Sure-Fire Strategies for Sourcing Passive Candidates
As you build out your employee referral program, keep the following in mind:
Make your employees feel appreciated for their referrals — employees like being appreciated, and when it comes to referrals, you should celebrate them when they're given. It doesn't have to be much. Show your team that you're thankful for their help finding a quality candidate. 
Keep the candidate and employee updated on the referral process — transparency in the hiring process is critical for a positive experience. Let your employee who made the referral know how the process is going, and keep your referral in the loop!
Be sure to reward engagement, not results — rewarding employees for referrals should occur immediately, even if the reward is small. The best referral programs are built around rewarding and encouraging referrals rather than rewarding a successful hire. Frequent rewards and recognition go a long way in keeping your team engaged with the process.
Get creative with your sourcing strategies
There are many creative sourcing strategies you can use to find top performers. For example, you can host meetups or events that would attract potential candidates. You can also try contacting passive candidates through cold emailing or LinkedIn InMails. Another option is to work with a recruiting agency specializing in finding top talent.
The best superpower recruiters have is making that candidate feel wanted. But that can't happen until we have the opportunity to build relationships and the time to engage in meaningful conversations with those talented people who are not yet interested in us.
-Tim Sackett
Show Off Internal Mobility and Development Opportunities
Passive candidates crave professional development and growth. Make sure you have growth and development plans in place, not only to attract passive candidates but for your current employees as well. Employees that undergo professional development are:
15% more engaged
34% more likely to stay within their role
Two factors that are highly important to today's candidates are a healthy, strong workplace culture and bountiful growth opportunities. Read More.
Create a Stellar Candidate Experience
Regardless of whether you're recruiting passive or active candidates, you need to put the candidate experience first. A subpar experience means you'll miss out on top talent, and the chance it negatively impacts your employer brand is high. With 72% of candidates likely to share their bad experiences, putting the candidate first is crucial. Here are some ways you can ensure a positive candidate experience every time:
Take steps to eliminate unnecessary application steps or repetitive form fields.
Offer mobile application capabilities to enable candidates to apply on the go.
Stay on top of your communication to ensure transparency at every stage of the process.
Ensure a seamless and simple onboarding process once an offer has been accepted.
The key to a strong recruiting strategy in 2023 is to create custom approaches for recruiting both passive and active candidates. With a lack of talent available on the market, organizations simply can't afford to overlook an entire pool of candidates. For more advice on how to tweak your recruitment strategies in the new year, reach out to our team today.