An HR leader shares why the real difference between job seekers lies within their level of interest.
Most corporate positions are filled by actively interested candidates: you post a job, hope for a qualified, actively interested candidate to apply, and then try not to let the hiring process get in the way.
Hiring managers have never wanted to limit themselves to this outdated and ineffective way of finding the best talent, leading many to have a greater bias towards candidates that are passive. 
But despite passive candidate's desirability and that they represent the majority of the workforce, passive candidate recruitment has often been an untapped opportunity for talent acquisition teams.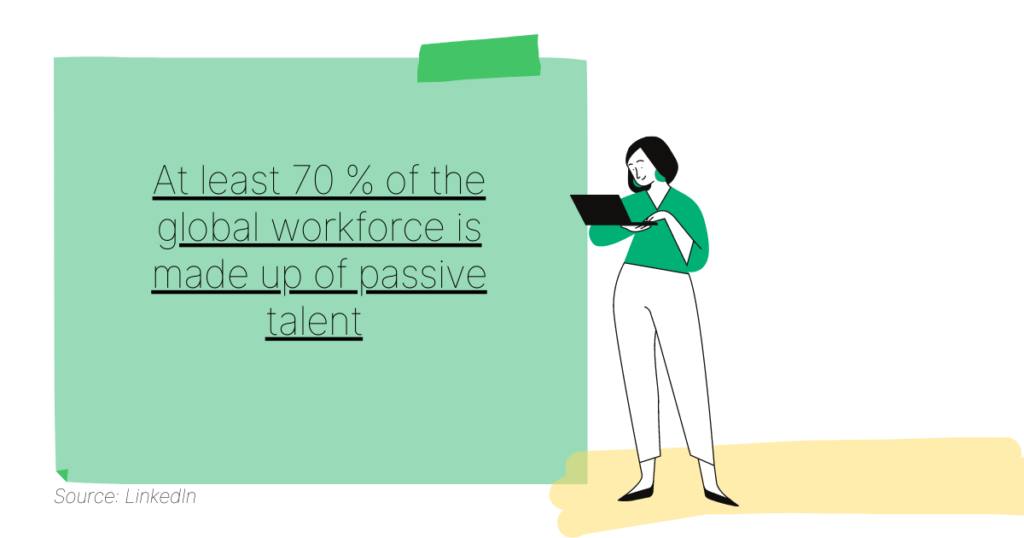 Why? Recruiting passive candidates can be a difficult, manual process that requires thoughtful outreach and time-consuming searching. Recruiting active candidates has historically been a more realistic option for already overextended teams.  
Luckily, technology is changing the recruiting game and turning passive candidates into actively available opportunities. By giving recruiters an opportunity to connect more with qualified, but not yet interested candidates,  sourcing technology has completely changed what it means to be an active vs. a passive candidate in the modern era of recruitment. 
The real candidate differentiator is not active vs. passive, but interested vs. disinterested.
Every candidate is active for the right job.
Almost every single person you've ever met would consider accepting another job than the one they have. Their dream job, a job with better benefits or higher compensation, one with a better culture fit or where they would feel more valued, etc.
The best superpower recruiters have is making that candidate feel wanted. But that can't happen until we have the opportunity to build relationships and the time to engage in meaningful conversations with those talented people who are not yet interested in us. 
Now that we're in the digital age of recruiting, that's not just possible — it's easily at our fingertips. 
Recruiters now have access to tools that source passive candidates for them, allow for easy review and outreach, provide automated email campaigns with personalization options, and track everything for the entire recruiting team to see and access. 
Hiring already-interested candidates may have always been easier. But if you're only hiring those candidates, your recruitment strategy isn't focused on finding the best talent, it's dependent on chance.
Now we are in a time where we can confidently use the tools at our disposal to say we're not just hiring, we're hiring better. That's a strategy I want to stake my career on.
---
Contributor Tim Sackett, SHRM-SCP is the CEO of HRUTech.com — a leading tech staffing firm headquartered in Lansing, MI. Tim has over 20 years of combined Executive HR and Talent Acquisition experience working for Fortune 500 companies and is a highly sought-after international speaker on leadership, HR & TA Tech, talent acquisition and HR execution. Tim is currently a Senior Faculty member with the Josh Bersin Academy and authored the best-selling book, "The Talent Fix: A Leader's Guide to Recruiting Great Talent". He also writes every day at his blog the Tim Sackett Project and over at Fistful of Talent. In 2021, Tim was named one of the Top 100 HR Tech Global Influencers by HR Executive.