Expanding your organization can be simultaneously thrilling and intimidating, but most can agree that it is a huge privilege to be able to start hiring at scale. With rapid expansion on the horizon, hiring teams have to prepare for the incoming onslaught of internal changes and how their decisions impact their company's trajectory.
When hiring at scale becomes a priority, some of the essential practices in your organization can be unintentionally thrown out the window. Elements like processes, team culture, and cross-functional communication can be the first sacrifices in the process of expansion. However, they don't have to be.
As much as growing your organization matters to the future of it, so does the maintenance of the current culture and supportive processes needed to reach your vision. Keep reading to determine how preparation, implementation, and sustainability can help you in your hiring efforts.
Enhance your #Sourcing strategies and learn how to #HireAtScale with the latest checklist and valuable tips to make the process as smoothly as possible via @visage_jobs:
Click To Tweet
Preparation
Utilizing a predictive AI pipeline connects you to the in-demand talent you might not find elsewhere. With this technology, a lot of the vetting is already done for you, enabling you to focus on candidate experience and selling your organization.
Additionally, to keep things on the same page with your existing team, you must consider your current culture. Hiring for culture can be tricky, but it will yield a high ROI if done correctly.
Ways you can ensure you're hiring for culture include:
Defining the values of your company
Discussing company culture while interviewing
Introducing potential new hires to your team
Prioritizing the onboarding experience
Before hiring at scale, recruiters need to understand the whole process, plan out the workloads, identify the number of needed hires, and predict how each stage of the hiring pipeline will go. This, in turn, will allow teams to better automate and understand how and when to use their tools.
Here are the top ways you can prepare yourself and your team for an intense hiring surge:
Calculate the number of needed hires
Plan workloads according to moving positions
Identify your company culture
Align employer branding with your mission and vision statements
Discern skill and capacity gaps within your team
Hiring At Scale: Comprehensive Checklist
Enhance your sourcing strategies and learn how to expand your team with our latest checklist.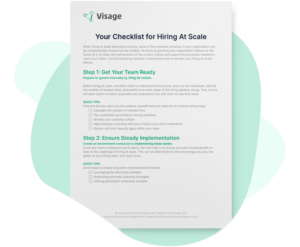 Fill out the form below to get your free copy of our checklist.
Implementation
Once your team is prepared and in place, the next step is to ensure you have the bandwidth to take on the challenge of hiring at scale. This can be determined by the technology you use, the ability of your hiring team, and much more.
For starters, you need to have exceptional tech to hire at scale. Otherwise, you won't be able to operate at the speed necessary to meet your goals. Unsurprisingly, automation doesn't just make recruiters' lives easier; it also helps candidates. Things like automated email workflows function by nurturing candidates through the entire hiring process. A great tech stack supports email engagement through outreach and automation, something vital for a strong outreach strategy.
Get step by step instructions on how to prepare your organization to #HireToScale in the latest blog via @visage_jobs:
Click To Tweet
To ensure quality implementation, you would be remiss not to consider the workload of your hiring team. How much can they handle? What necessary tools are in their arsenal? What is missing? How can you provide additional support?
Some ways to ensure long-term implementation include:
Leveraging the best tools available
Employing automatic sourcing strategies
Utilizing automation whenever possible
Sustainability
Once you've laid out the blueprint for hiring to scale, started the process, and things are going well, you need to make sure your practice is sustainable, yields results, and improves the company holistically.
The main intent behind hiring to scale is to take your organization to the next level. These steps to develop and implement a powerful strategy can easily fade away if no upkeep is done to ensure these processes are performing at their highest capacity. 
Some ways to ensure the longevity of these practices include:
Track the number of hires you've secured
Keep an eye on your hiring goals
Minimize bias in hiring
Reevaluate the performance quarterly
Offer a superb candidate experience
After building out a comprehensive strategy for hiring at scale, the least you can do is ensure it is operating properly and continues to be handled with care. While your company's growth has always been at the forefront, some interesting details deserve a closer look to maintain sustainability for years to come.
For those about to embark on scaling your business, there is a long, exciting, and rewarding road in front of you. With these tips to keep top of mind at the beginning, during, and after the process, you have the guidelines needed to get a head start today on your company's future for tomorrow.
Ready to change your sourcing game? See Visage's platform in action and discover the difference it can make for your team. Schedule a demo today to figure out how we can help boost your recruiting strategies.