As Talent Acquisition becomes more complex, the availability and advantages of recruitment tools are accelerating quickly. AI and other tech solutions are becoming increasingly valuable tools for recruiters vying to remain competitive in today's landscape. Senior leaders continue to evaluate their team's strategies to better understand how new tech investments can help improve performance and attract more talent, but when it comes to tech implementation and usage, many leaders are hesitant to spend without the promise of adoption.
Did you know a PwC report revealed that the top three HR technology problems among HR leaders are difficulties with HR insights and data analytics, recruiting and hiring systems, and cloud transformation and modernization of HR systems?
A recruiter's ability to leverage the right technology in this market is critical, which means adoption rates for new technology are as well. Here are tips you need to help increase your team's tech adoption:
Click To Tweet
Low adoption rates are common in the early months of rolling out new technology. But in this market, a recruiter's ability to leverage the right technology is critical. While leaders consider adding new technology to their tech stack, they'd also do well to consider these tips in increasing adoption.

Here are our top 5 tips for senior Talent Acquisition leaders to help increase tech adoption:
Tip #1: Consider Team Input
Before making any drastic changes to their processes or platforms, you can help increase tech adoption by understanding where technology can help with improvements. Forward-thinking leaders are having conversations with their teams about the biggest challenges of their roles, the hurdles they're up against, and the aspects of the market they're struggling to face head-on.
Once leadership has a firm understanding of their team's operations, it not only aids the selection of new technology but helps your team feel heard and advocated for. Once a new tech stack is rolled out, a team usually has much more confidence that their leadership has made a choice based on their own concerns and requests.

New recruiting technology? Exciting! New tech adoption rates? Unnerving. Here are 5 tips for creating a smooth transition when implementing new tech:
Click To Tweet
Tip #2: Offer Details About Your Decision-Making
Your team trusts you – so voicing your trust in this product will speak volumes. Many teams facing changes in their process want to understand the "why" behind a new implementation. This is especially true with a platform they'll need to devote their time and energy to mastering.
Help set them off on the right foot with an optimistic attitude by explaining how this technology better connects your team to their goals or adds value to their roles, so they can better understand the role it will play in their future success. Reward employee adoption of the HR Technology with spot bonuses, extra time off or company 'swag'. Doing so will help boost morale and encourage more adoption of the technology.
Offer professional development opportunities as part of the incentive structure to promote innovation, creativity and higher productivity amongst employees. This can be done through mentorship programs or access to resources which can help them stay up-to-date on the latest industry trends and best practices.
Keep your Team Thriving: Reduce the likelihood of recruiter burnout in your organization.
Tip #3: Advocate for Specifics
Let's get down to brass tacks. Will this AI tool give them back "x" amount of hours per quarter that can be allotted to development and upskilling? Will it reduce their required load by a certain percentage, allowing them more hours in their day to take a well-earned break?
The same features that sold you on this impressive technology will likely sell them as well. Understanding and communicating these specific benefits will encourage your recruiters to take advantage of them.
Implement a system for tracking progress around HR technology adoption, by providing analytics which measure usage rates, completion rates and performance metrics. This will provide leaders with data which they can use to better understand how their organization is faring in terms of adopting new technologies.

Tip #4: Loop in Team Management and Culture
As implementing new technology should, the tool's features and benefits of your new platform will help create connections across your team. Take time to celebrate that success by acknowledging and celebrating team wins when those goals are met.
Explore how many built-in features, like Visage's helpful analytics and metrics, can help you track your wins and duplicate them in the future. This not only helps you become a more efficient leader but helps keep your team engaged in reaching those goals.
Utilize communications tools such as video, chatbot or social media platforms to engage and update employees on the progress being made around HR tech adoption initiatives. This could also serve as an effective way of gathering feedback on different features which are being implemented or tested out within the enterprise environment.
Recruitment is Getting Proactive: Find out why it matters so much in 2023.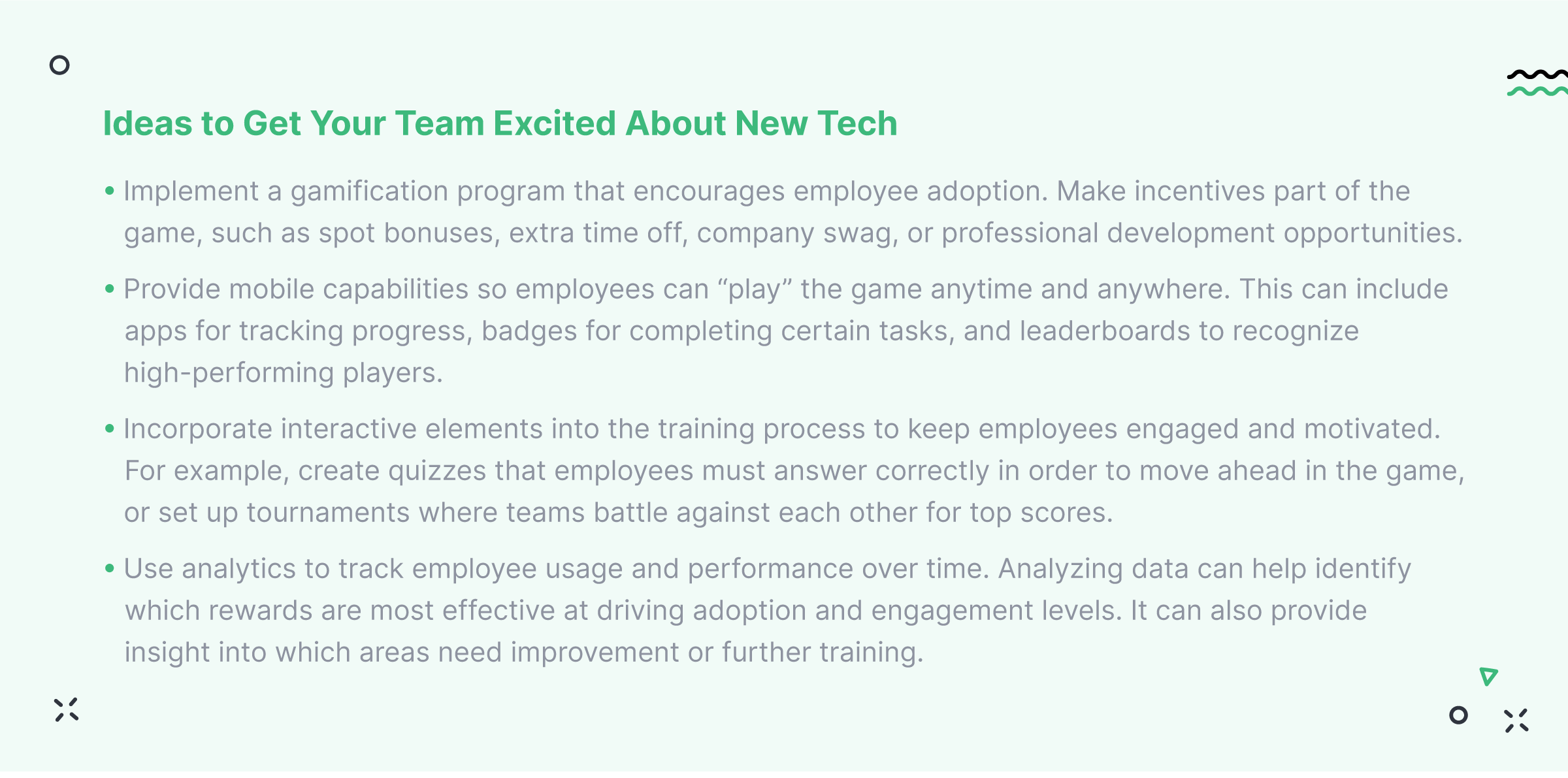 Tip #5: Choose the Right Tech Partner
Nothing discourages adoption rates quicker than a rough implementation process with no support in sight. This means the partner you choose is vital. Lighten the load of implementation, integration, and ongoing usage by ensuring your tech partner offers the highest caliber of support.
Visage gets your team up to speed quickly and offers ongoing Client Service resources and partnerships to ensure success every step of the way. Reducing tech frustrations with effective guidance and tips for success helps your team hit the ground running.

When it comes to increasing tech adoption, the power is in your leadership! By helping recruiters understand the "why" and "how" of the tech, you will empower them to improve their work-life balance while also finding more efficiency and success.
To learn more about how we can help increase adoption and elevate your recruitment function, schedule your free demo today.