The Great Resignation, a.k.a. The Great Reshuffle, Revolution, Reimagination, Renegotiation, etc. is now the number one concern of CEOs in 2022.  What started as an opportunity to reexamine work priorities quickly led to a shift in the power dynamics between workers and their employers, and has now brought on a complete evolution of how companies need to approach hiring and retention. 
But counteracting the negative business impact of millions of workers choosing to leave their jobs is not just about simply understanding what workers are looking for now. Demands for hybrid or remote environments, pay increases, better work-life balance, and other improvements to working conditions have been made clear, but meeting them won't be enough for businesses that want to create lasting and intentional success. 
Attracting workers is an important start, but it's only addressing part of the problem —there are larger undercurrents to hiring challenges and employee dissatisfaction that need to be met with new processes, better use of data, and an increased focus on culture. 
Here are three tips for employers who want to strategically evolve their approach to hiring and turn The Great Resignation into a Great Hiring Opportunity:
1. Build connections throughout virtual hiring and onboarding: Allocate more time to candidate engagement.
With remote work comes remote hiring and onboarding.  Building effective new-hire training processes virtually is difficult, especially for positions that were previously in-office. Virtual collaboration is tricky, and "Zoom fatigue" has real psychological consequences.  
An analysis by the Harvard Business Review also noted "it's possible that the shift to remote work has led employers to feel that hiring people with little experience would be riskier than usual, since new employees won't have the benefit of in-person training and guidance." 
Eliminating potential groups of workers that could excel in open positions or restricting  their development isn't feasible in today's market. You can create more opportunities for peer connection by ensuring hires are familiar with the company features and expectations well before hiring and that they mesh well when virtually acquainted with key team members. Instead of trying to fit your previous strategy into the virtual environment, be intentional about creating new, virtual experiences from the start.
As Gartner wrote, "rather than merely adapting principles from the on-site environment to the hybrid world, organizations need to unlearn old habits and fundamentally rethink work design."
Hiring At Scale: Comprehensive Checklist
Enhance your sourcing strategies and learn how to expand your team with our latest checklist.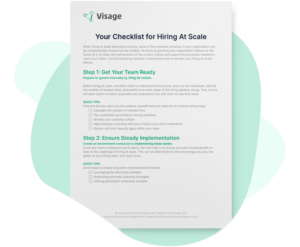 Fill out the form below to get your free copy of our checklist.
2. Take a data-driven approach: Pinpoint key improvement areas in your hiring funnel.
As competition continues to increase, so does the pressure placed on talent acquisition teams to hire more, quickly.  Just as employees are reevaluating their priorities, hirers now have a new opportunity to evaluate their hiring data with a more strategic lens.
Utilizing hiring data can help the entire team decide when and how to take action, keep you aligned on hiring goals, and manage expectations throughout the organization.  You can also begin to make comparisons from your current pipeline performance to your pre-Great-Resignation data to highlight key areas to capitalize on.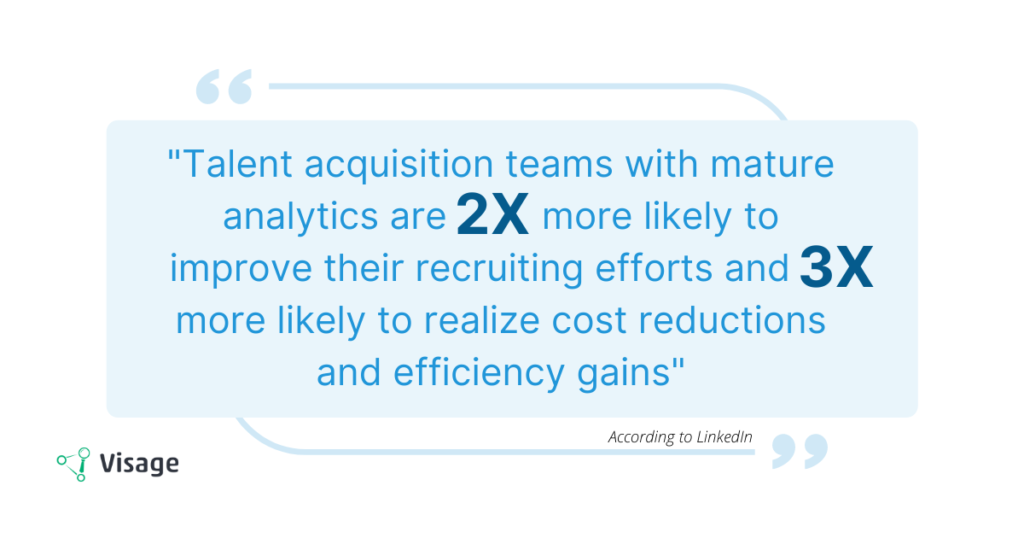 Start using analytics to answer key questions, such as:
Which candidates in the talent pool should be prioritized?
Where are candidates falling off within the hiring process?
When should you begin outreach, and from who? 
3. Recruit with your company culture: Create the foundation for a sense of belonging.
​​Company culture is a main contributor to The Great Resignation, making it a great opportunity as well. Focusing on culture fit during recruitment will not only result in better employee retention, it's also a great way to showcase what candidates are most interested in learning about. For example, when a company post on LinkedIn mentions culture, there's a 67% engagement boost.
Establish clear communication on company culture and enable your recruiting and outreach efforts to flow from that foundation. Future employees want to find a sense of belonging and inclusiveness in their work, so it's important to be open and informative on their opportunity to contribute meaningfully in the role and become an integral part of company culture.
Hiring for culture fit to help enable more sense of belonging will continue to create value:  "If workers feel like they belong, companies reap substantial bottom-line benefits. High belonging was linked to a whopping 56% increase in job performance, a 50% drop in turnover risk."