This article on developing a strong recruiting funnel was originally published in October 2020. All relevant information and statistics have been updated as of October 2022.
Everywhere you look, it seems like people are breaking down and dissecting the turbulent and challenging job market we're currently experiencing. A surplus of open jobs on the market and a lack of qualified, active candidates make recruiters' jobs difficult as they compete to fill their open roles. 
In the past, we've looked deeper at how this fight for talent has led to increased rates of recruiter burnout and have even talked through methods and strategies you can implement to reduce the strain your team faces. Too often, it seems, recruiters are taken for granted by organizations that don't understand the importance of equipping their teams with specialized skills and tools to support their hiring process. But, at Visage, we're working to change the status quo and shine a spotlight on how important it is to embrace the support of advanced tools and set realistic expectations regarding your hiring goals.
How can you stay competitive and ahead of the game when it comes to recruiting in a challenging #HiringMarket? @Visage_Jobs says it all starts with a clear process and a solid #RecruitingFunnel:
Click To Tweet
One way to do that? Build out a comprehensive recruiting funnel that clearly lays out your process and forecasts candidate sourcing needs to fill the open roles in your organization.
Sourcing Funnels Help You Work Smarter
What makes sales teams so successful? One thing is their ability to identify exactly what makes a qualified sale. Once they have this information, they can work backward and create a formula that helps them find the right people that fit within that criteria. They're not working inherently harder; they're just finding new ways to work smarter. How? They're calling the people they actually have a chance of closing.
Rather than spending time calling people who have no interest in your service or who don't meet your criteria, it makes sense to put your efforts into targeting a more specific group of people. The same goes for recruiting. If you work to create a highly targeted sourcing funnel, you can help reduce the strain on your team and attack your hiring approach in a smarter way.
Think of Recruiting Like You Would Sales
Like everyone, recruiters want to work smarter, not harder, as they take on new roles in this demanding economy. As teams and budgets get smaller, requisition loads don't, and agencies and internal recruiters alike are now recruiting new backgrounds. A growing talent market and shrinking revenues will only continue to force recruiters to build broader skill sets.
With fewer specialist recruiters, it's more important than ever to work alongside hiring managers to set expectations. One of the most important things to discuss? What the slate will look like. Your hiring manager should know answers to questions like, "How many people will you source for this role?"
Often leaders don't understand hiring and blow recruiting off as easy and something that needs a million options. Explaining the process could save you a lot of headaches. Once everyone has a clear understanding of how your recruitment process operates, you need to make a comprehensive recruiting funnel and start executing.
The hiring market might be tough, but that doesn't mean you can't secure top talent. Check out our Q&A on building out a strong Talent Sourcing Strategy Amid a Recessive Market.
Mastering Recruiting Funnel Metrics
Once you and the hiring manager agree on the output, you'll build a funnel. Most people talk about funnels in a marketing context – how many people did we reach, how many clicked, how many bought, etc. A recruiting funnel is a little more complicated. It's a series of numbers that tells you how many inputs you need to get to the final 3 candidates. How many people do you have to interview? How many do you have to contact to get interviews?
A typical recruiting funnel looks like this, but bear in mind that your specific recruiting funnel might be different based on your organization's structure and unique needs.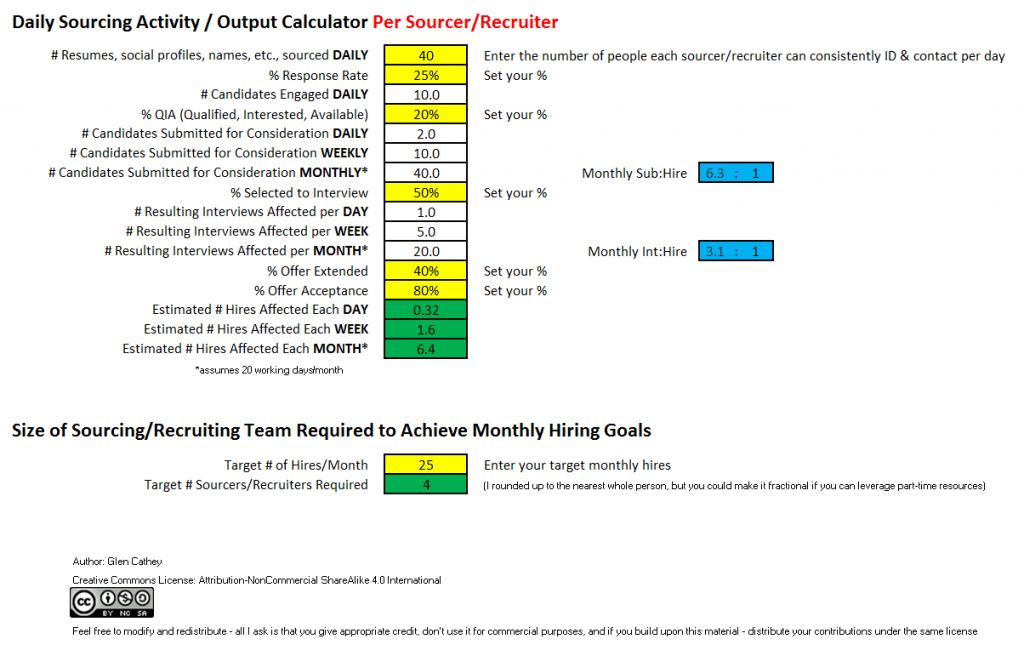 Factors That Influence Your Recruiting Funnel
Of course, like everything in recruiting, there's nuance to your recruiting funnel. There are many variables that can either hinder or enhance your ability to source and secure candidates for open roles.
See how building out a comprehensive #RecruitingFunnel can help your recruiters save time and effort sourcing and securing the best #Candidates:
Click To Tweet
When building out your own recruiting funnel, consider the following factors:
Employer Brand – If you have a strong, positive employer brand, chances are you'll have an easier experience sourcing candidates and finding someone that fits your ideal profile. People want to work for employers with positive, supportive cultures, so be sure you give your staff the tools and guidance they need.
Location – Are you searching for an in-person or hybrid employee? It may take longer to secure a new hire, as many people are opting for remote work opportunities. 
Competitiveness – Is this a generic role you're searching for or a highly specialized one? The more niche the role, the harder it is to find great candidates in a short period of time. Give yourself some grace and recognize that certain roles will simply have a more complicated or lengthy hiring process.
Outreach – The way you approach your outreach and candidate engagement makes a world of difference in your hiring accomplishments. People want to hear from companies in a manner that feels personalized, not robotic. Remember that a great email is not about deadlines or pressure; it's about a personal connection.
Referrals – We all know referrals fill jobs faster. For starters, your existing employees know the demands of the job and the culture of your workplace. The chances are they will take the time to be sure their referral is a strong candidate and decent match before they pass the name along. Take advantage of these referrals to cut your time to hire and find great quality candidates fast!
To stay competitive in this hiring market, you need to take measures to reduce the strain on your recruiters and create a strategic, comprehensive approach to hiring. The first step in doing just that? Ensuring everyone understands the hiring process by building out a solid recruiting funnel. Once you have your foundations and framework set, you can expand your sourcing and engagement capabilities by embracing intelligent tools.
That's where Visage comes in. We simplify candidate sourcing and outreach so recruiters can focus on the most important aspect of their job: evaluating people. Combining the human element of recruiting with cutting-edge tech, Visage offers a modern sourcing solution that helps you break through your lackluster hiring patterns.
To learn more about how Visage can help you source strong candidates, reach out to us for a demo.